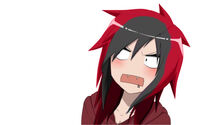 Before the destruction of Sunagakure she lived in Sunagakure distant from the rest of the group and rarely appeared around anybody. She would sneak out of her house suspiciously just to go over to the previous Kazekage's manor to receive her missions. So as she heard that the previous Kazekage had left Sunagakure she was sad and never came out of her house, ever. Nobody knew about her existence at all. For the destruction of Sunagakure she packed up the remaining food that her previous Kazekage had give her before leaving and left the village before it was crushed to nothing.
Arriving at Konohagakure she met Shirai who searched her body for any weaponary and met Abuki. She then met her fated one, Soushirou Hayate. He really cared for her so she decided that she'd call him her hero. Some time later the two began dating. She is currently attempting to work her way up to a genin and her occupation will be either a weaver or a scout for the village. 
"You're a perv~!" -- to Soushirou, Hayate
History of Anasuki
Currently she have red hair and a little bit a black hanging down her forehead and have her original eye color which is orange. She appear to have a red scarf and a blanket over her that is green. Under the blanket is concealed a green long-sleeved shirt and her bra of course. She has red pants and uses white bandages to cover some part of her ankle and wear black sandals.
Appearance
METAGAME WILL RESULT A BIG OOC RAGE AND A ADMIN TO COME AND KICK YOUR POTATO BUTT!
Ad blocker interference detected!
Wikia is a free-to-use site that makes money from advertising. We have a modified experience for viewers using ad blockers

Wikia is not accessible if you've made further modifications. Remove the custom ad blocker rule(s) and the page will load as expected.