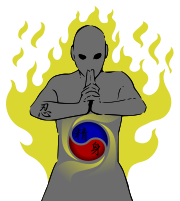 Ninjutsu, aka "Ninja Techniques" are techniques that require chakra to complete. They are 'real' meaning that unlike genjutsu they can physically hurt you.
E rank
Biko no Jutsu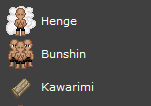 Henge no Jutsu
Kawarimi no Jutsu
Bunshin no Jutsu
D rank
Kami Shuriken (Kekkei Genkai Only)
Sōshuriken no Jutsu (Weapon Skill)
Shikyaku no Jutsu (Inuzuka Clan Only)
Shunshin no Jutsu (Is very straining on your chakra reserves at lower levels (AKA Genin))
Jūjin Bunshin (Inuzuka Clan Only)
C rank
Zankūkyokuha (May require custom/magical weapons. Potentially a surgeon)
Shikoku Fūin (Fuuinjutsu)
Katon: Endan (Doesn't require toads or oil in this game.)
Gofū Kekkai (Fuuinjutsu)
Sen'eijashu (Likely requires snake summoning ability)
Sumi Bunshin no Jutsu (Special Requirements: Ink Jutsus)
Sumigasumi no Jutsu (Special Requirements: Ink Jutsus)
Sōfūshasan no Tachi (Weapon Skill)
Shintenshin no Jutsu(Yamanaka Clan required. Can be strengthened or defended with Mind Perks)
Shikomishindan (Weapon Skill; Would require a custom weapon)
Kugutsu no Jutsu (Puppeteer skill)
Jouro Senbon (Would require custom weapon)
Kamaitachi no Jutsu (Fan User)
Jagei Jubaku (Requires the ability to summon snakes)
Kuchiyose no Jutsu (Summoning jutsu)
Senju Sōbu (Puppeteering Skill)
Kyōmeisen (Would require magical/custom weapon)
Mizu bunshin no Jutsu (Can only use physical and water attacks)
B rank
Kekkai Hōjin (Fuuinjutsu/Barrier)
Kekkai: Tengai Hōjin (Barrier Ninjutsu)
Kurohigi Kiki Ippatsu (Puppeteering)
Shikigami no Mai (Kekkei Genkai: Paper)
Garōga (Inuzuka Clan Only)
Katon: Gamayu Endan (Collaboration jutsu)
Daikamaitachi no Jutsu (Fan User)
Hakkeshō Kaiten (Hyuuga Clan Only)
Jūkenpō Ichigekishin  (Hyuuga Clan Only)
Sen'ei Tajashu (Snake technique)
Shinranshin no Jutsu (Yamanaka Clan Only)
Mandara no Jin (Snake technique)
Sabaku Rō (Sand Manipulation)
Kuchiyose: Doton: Tsuiga no Jutsu (Requires Dog Summons)
Kuchiyose: Raikō Kenka (Fuuinjutsu)
Suiton: Gōsuiwan no Jutsu (Hozuki Only)
A rank
Shihōhappō Shuriken (Requires Kage Bunshin)
Mikazuki no Mai (Requires Kage Bunshin)
Ōdama Rasengan (Requires Rasengan)
Chikatsu Saisei no Jutsu (Medic)
Meisaigakure no Jutsu (Scout?)
Hyūga Sōke no Juinjutsu (Fuinjutsu/Juinjutsu)
Ranshinshō (Medic)
Tajuu Kage Bunshin no Jutsu (Kage Bunshin required)
Shōsen Jutsu (Medic)
Shuriken Kage Bunshin no Jutsu
Kuchiyose: Sanjū Rashōmon (Summoning)
Sōjasōsai no Jutsu (Snake)
In'yu Shōmetsu (Medic)
S rank
Sōzō Saisei (Medic)
Shiki Fūjin (Fuuinjutsu)
Pages in category "Ninjutsu"
This category contains only the following page.
Ad blocker interference detected!
Wikia is a free-to-use site that makes money from advertising. We have a modified experience for viewers using ad blockers

Wikia is not accessible if you've made further modifications. Remove the custom ad blocker rule(s) and the page will load as expected.