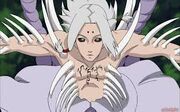 Kekkei Genkai
Kekkei genkai (血継限界; Literally meaning "a technique limited to inheritance by blood" or "Bloodline Limit") are abilities passed down genetically within specific clans. It's possible for a ninja to have more than one of these abilities. Kekkei genkai abilities that work via the user's eye are called dōjutsu. Other kekkei genkai include mixing one type of elemental chakra with another, creating a new one unique to the users, which is usually impossible for normal ninja, or other bodily manipulations that are usually unachievable by normal standards. Kekkei genkai and their related techniques cannot be taught to or copied by others. However, kekkei genkai can be given to others. Dōjutsu, or other kekkei genkai isolated to a single organ, can be transplanted into the body of another. Use of these organs requires much more chakra than someone born with the kekkei genkai. Chakra elements can also be passed down to people outside of the clan.
Although kekkei genkai are usually genetically shared within a specific clan, sometimes it is unique to one person alone, and that even family relatives do not share it, such as the Wood Release and Shikotsumyaku. Yet other kekkei genkai seem to appear in individuals with no known relation, such as the Lava Release, which has appeared in ninja from Kirigakure, Iwagakure, and Kumogakure, while Magnet Release, which has appeared in ninja from both Kumogakure and Sunagakure.
There is an advanced variant of kekkei genkai known as kekkei tōta, which is a combination of three different nature transformations.
Ad blocker interference detected!
Wikia is a free-to-use site that makes money from advertising. We have a modified experience for viewers using ad blockers

Wikia is not accessible if you've made further modifications. Remove the custom ad blocker rule(s) and the page will load as expected.