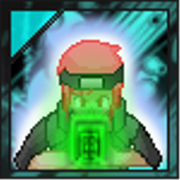 Throughout the world of EotS, there exists a great deal of perks. Perks are designed to assist in distinguishing an RPC's abilities, and are gained through the development and training of a character. The amount of Perks a player can have is limitless, but through only through much effort, may they be acquired.
Perk Database
Rank Restriction on Perks
All Tier 4 perks require at least a B- in letter grade. The only exception to this is a Senju's chosen core focus which can be attained at any rank and Hoshigaki in regards to their chakra. Certain perks require approval before being logged for - please check if the perk you're interested in falls under this bracket.
Strength
Strength (T1)                                                                                                                                                        
-This individual has an above-average level of strength, applying to wherever it's necessary.-
Durability
Tough (T1)                                                                                                                                                            
-This person has a knack for perserveering through pain.  Their body is durable enough that it requires a focused effort to cause noticeable damage.-
Agility
Fast (T1)
-This individual moves at a substantially quicker pace than the average.  Their maximum speed is far from standard.-
Note: +1 Tile movement
Reflexes
Reflexive (T1)
-This character posesses heightened reflexes.  They can evade simple attacks with ease.-
Focus
Inteligence
Stamina
Chakra
Chakra (T1)                                                                                                                                                          
-This individual's chakra is considered above average for their rank.  They can keep going where others would fail.-
Sensory
Smell
Sight
Hearing
Handseal Speed
Deft Handseals (T1)
-This character has the fundamentals of stringing handseals together down to an advanced degree.-
Note: 12 Handseals in one turn.
Genjutsu
Mind
Specialization
Taijutsu
Taijutsu Trainee (T1)
This character has an advanced understanding of hand to hand combat.  Basic taijutsu techniques can be performed by this character with the greatest of ease.-
Kenjutsu
Medical
Elementalist
Basic Elemental Training (T1)
-This character has the necessary training to utilize their element competently.  They can use this element's techniques correctly and properly harness their element chakra.-
Fan User
Puppeteer
Weaponist
Weaponist (T1)
-This individual is skilled in the usage of projectile weapons.  Weapons thrown by them are faster and more accurate than the norm.-
Scout
Masked Murderer (T?)
-The user of this perk is a man of many faces. They can change their appearance, smell, and even their chakra signature on what seems like a whim.-
Body Flicker
Fuuinjutsu
Basic Sealing (T1)
-This character knows how to seal common items into scrolls for every day use.
Clay Specialist
Iron Sand
Clan Perks
Uchiha
Hyuuga
Akimichi
Nara
Inuzuka
Hozuki
Kaguya
Aburame
Iron Temple (Disabled)
Samurai
Priest
Miscellaneous
Blacksmith
Other stuff
Ad blocker interference detected!
Wikia is a free-to-use site that makes money from advertising. We have a modified experience for viewers using ad blockers

Wikia is not accessible if you've made further modifications. Remove the custom ad blocker rule(s) and the page will load as expected.